Zomato - Restaurant Finder and Food Delivery App
14.2.3
Restaurant Finder – Find a Place to Eat Near You
If you are hungry and looking for a place to eat in your city then this restaurant finder is the ideal app for you. Zomato – Restaurant Finder and Food Delivery App is a nice app that allows you to find eateries located near you and place food orders online. It lets you search for new restaurants that you haven't visited before and provides you an idea of how their food is. You have user reviews available for each restaurant. These reviews help you in making your mind about the restaurant that you want to eat at. Also, you can place an order for your meal to be delivered to your home. You can also make reservations at selected restaurants too and save yourself from having to wait for a table.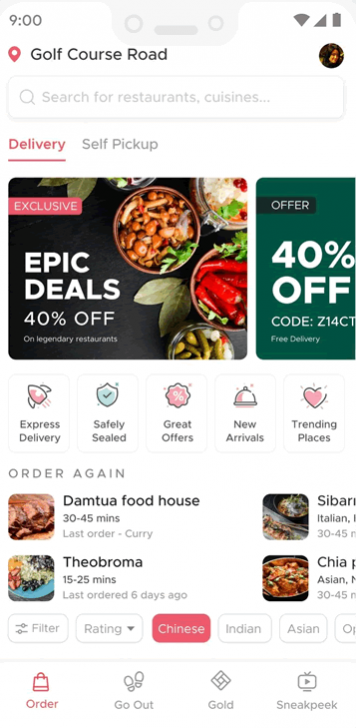 Zomato – Restaurant Finder and Food Delivery App has a user-friendly interface. It makes it very easy to use this app for anyone. Moreover, the layout of this restaurant finder has been designed very intuitively. Navigating the app is made easier thanks to the search box that is positioned at the top of the home screen. You can look for restaurants by typing in their name or the cuisine you want to eat. Your search will result in a list of restaurants being shown to you that have been picked by the app to match your query. You can check out the different restaurants in this list and see which of them is right for you. To see details of a restaurant, you just need to click its name in the list.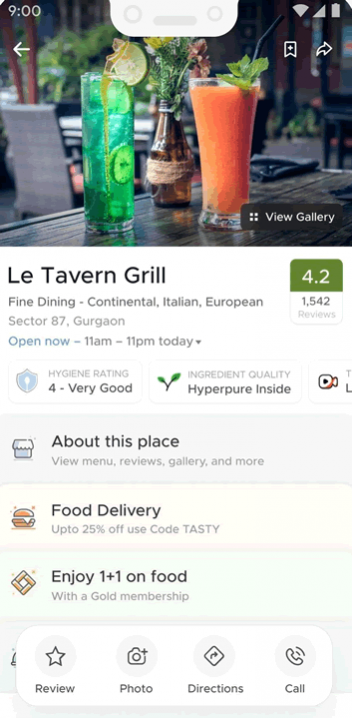 This restaurant finder requires you to sign-in using your Facebook or Gmail accounts before searching for any restaurants. You can sign-in using an email ID as well. However, if you don't wish to sign-in, you can skip this process altogether. Do keep in mind that this will impact your user experience. People who haven't signed-in can't interact with the app as freely as those who do. So, signing-in is important. Regardless, even as a guest, you would be able to read reviews posted by other restaurant-goers for each restaurant. You just won't be able to write your own reviews, though. These reviews are an excellent way of finding out what the food and the service are like at a particular restaurant.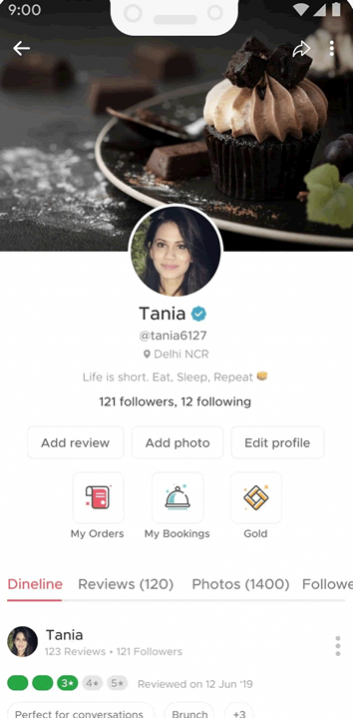 Zomato – Restaurant Finder and Food Delivery App provides menus of all the restaurants so that you can decide which restaurant serves the type of food you like. You can see photos of the restaurant as well to get an idea about its ambiance. Moreover, you are offered phone numbers of the restaurants too so that you can contact them about table availability. Also, you can find out where the restaurant is located by using the map feature. It will help you in reaching the place easily. If you are in India, the UAE or Lebanon, you don't even have to go to restaurants to get your food. This restaurant finder will let you order your food online from various restaurants and have it delivered to your home.
Features:
User-friendly interface
Intuitive design and layout
Search for restaurants near you
Find places to eat by food type
Read reviews left by other connoisseurs
Look at the menu and deals offered by the restaurant
View photos of the restaurant
Maps to lead you to your chosen restaurant
Home food delivery available for certain countries
Book a table at partner restaurants
Write your own reviews about the restaurants you eat at
Bookmarks feature for adding your favorite eating spots
Conclusion:
Zomato – Restaurant Finder and Food Delivery App is an app that will primarily appeal to food lovers who love dining at restaurants. It provides them the opportunity to look for new places to eat in their city and also enables them to have their food delivered to their homes. It is an excellent restaurant finder and a must-have for people who love fine dining.
Meta Description:
---
Add a review
Tell us your experience with
Zomato - Restaurant Finder and Food Delivery App
14.2.3
RELATED PROGRAMS
Our Recommendations
---
---
---
---